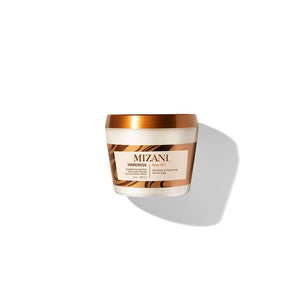 An enriched hair-dress containing natural oils and botanical extracts formulated to replenish moisture and add a soft, silky sheen to dry, dull hair and scalp. Designed to protect hair from breakage, and split ends while treating frizzy hair, this product also provides a radiant shine while protecting hair from styling damage.

Formulated with Rosemary Extract, Chamomile and Oils, Rose H20 Conditioning Hair-dress is rich enough to relieve itchy, tight scalps, yet so light it doesn't leave a build-up.

With its unique blend of ingredients, this aromatic, creamy conditioning, hair-dress helps to prevent split ends and styling damage while ensuring shiny, healthy, frizz-free hair.
Brand Story
MIZANI is committed to providing hairdressers and their clients products and services formulated with a precise balance to achieve and maintain healthy hair and the most on-trend textured styles. All for the love of Texture.