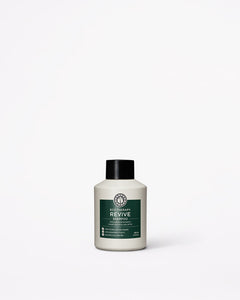 A moisturizing detox shampoo with micellar technique that gently and effectively removes impurities and residual product build-up to give new life to your hair. Contains restoring botanical proteins that help reduce frizz and dryness while keeping your hair fresh and strong.
The Eco Therapy Revive series is Cosmos Organic certified by Ecocert, guaranteeing 95% minimum of the plants it contains are organic and at least 10% of the total formula is made up of organic ingredients.
Eco Therapy Revive has a floral scent of white jasmine, galbanum and linden blossom. Colour Guard Complex maintains long-lasting color by protecting your hair from UV radiation and free radicals.